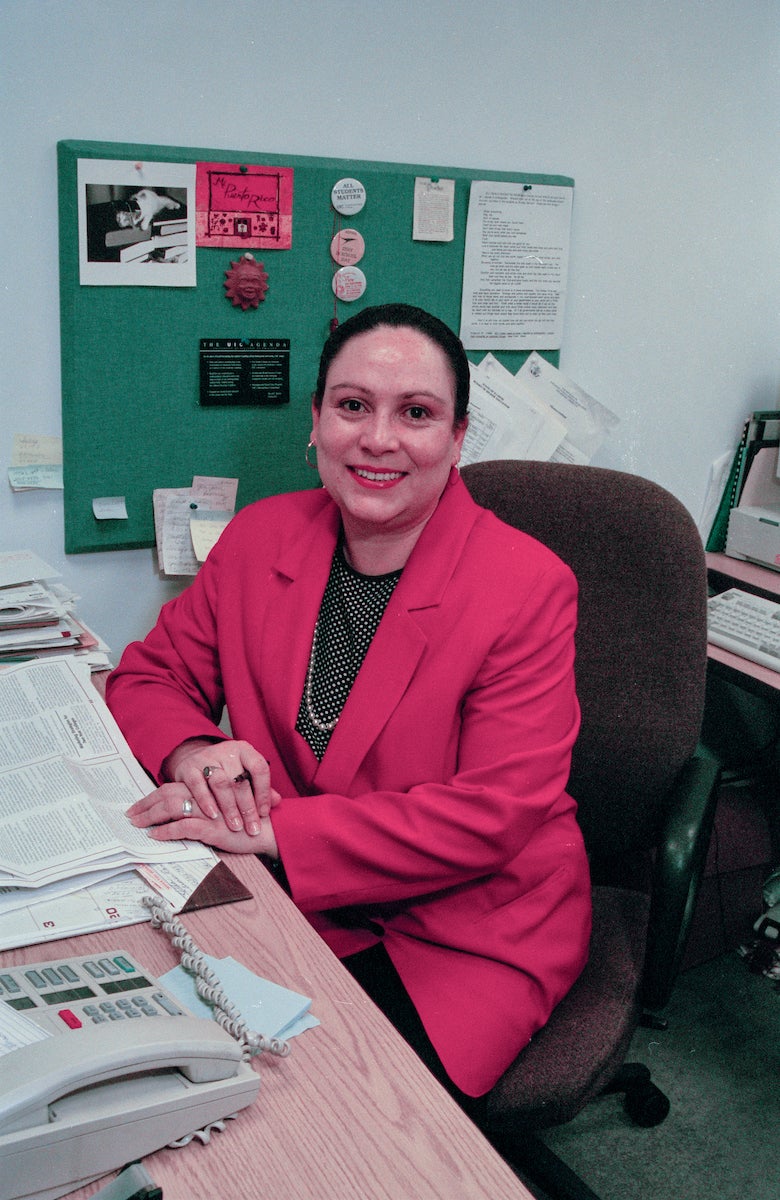 Hilda was born in Guayama, Puerto Rico on August 28, 1955 and moved to Philadelphia when she was three years old. She remained in Philadelphia until she decided to continue her education at the University of Illinois at Chicago and earned a Master of Education degree. Hilda had a generous spirit and dedicated her life to serving the Latino community. In Pennsylvania she worked as the Community Liaison for the Philadelphia Coalition on Domestic Violence and the Displaced Women's Coordinator for the Lutheran Settlement House. In 1980, she accepted a position at UIC where she worked as a counselor, assistant to the Vice Chancellor and Staff Associate.
Hilda's many civic contributions include her service as president of the Illinois Association of Hispanic State Employees (IAHSE) was board member of the Illinois Association Committee on the Higher Education (ILACHE). She devoted many hours of her personal time to improving the environment for Latino students, faculty and staff at UIC where she served on the chaired the Latino Committee on University Affairs (LCUA) and the Chancellor's Committee on the Status of Latinos (CCSL).
Latinx Undergraduate Students at UIC
Each year the Hilda López-Arce Scholarship Selection Committee awards a $500 scholarship to a Latinx student who exhibits leadership qualities and who has made contributions to the Latinx community.
Eligibility Requirements:
❖ Must be a UIC undergraduate Latin@ student enrolled in the Fall 2021 and Spring 2022 semesters
❖ Must be in good academic standing (GPA min 3.00) with a minimum of 12 credit hours earned
❖ Must demonstrate active involvement in the Latino community on or off the UIC campus
❖ This scholarship is open to UIC undocumented students (with or without DACA)
Application and complete instructions can be found at UIC SnAP:
https://uic.academicworks.com/opportunities/6090
For fullest consideration, applications must be submitted online via the UIC SnAP site. Refer to the link below:
https://uic.academicworks.com
Application deadline: November 1, 2021 by 11:59 p.m.
Any applications missing any supporting documents will not be considered. Questions can be directed to the Co-Chairs of the Latina Network Jocelyn Munguía Chávez jmungu2@uic.edu or Diana Soriano at dsoria2@uic.edu.
Past recipients of the Hilda López-Arce Scholarship by year.
2021
Daniela Guerrero
My name is Daniela Guerrero, I am a Junior pursuing a triple major in Public Policy, Political Science, and Sociology with minors in International Studies and Sustainable Cities. As a Latina who immigrated from Colombia to the United States, I have dedicated myself to supporting other Latinos in and out of campus. This academic year, I have the honor to be part of the Urban Public Policy Fellowship, as a fellow, I am developing a research project that studies how the methods of data collection negatively impact the Latinx Community. Also, I am currently interning for the office of Cook County Commissioner Alma Anaya, as part of the policy team, I am able to propose policies that address the social inequality that Latinx communities face in the county.
Melissa Lopez
Melissa Lopez is a first-generation college student majoring in Bioengineering with big plans in pursuing graduate school. Having struggled in STEM subjects as a child due to a lack of guidance and encouragement by her mentors, she is actively involved in outreach programs that promote STEM subjects to underrepresented minorities. As a member of the Society of Hispanic Professional Engineers (SHPE), she volunteers her time in planning and leading workshops through the SHPEjr program which provides elementary-high school students with opportunities to participate in hands-on STEM activities. She also helps execute the Noche De Ciencia (NDC) events hosted by UIC's SHPE chapter, which is an engaging event filled with panels and workshops to inspire youths and their parents to pursue STEM careers. Melissa is also involved in the Expanding Your Horizons (EYH), a two-day conference for middle school girls to engage in exciting STEM experiences. She helps EYH by planning the parent program that is filled with panels and local speakers that provide resources and tips to parents in order to better support their young girl's path into a STEM career. Melissa aims to become a research scientist specializing in cellular and tissue regeneration and hopes to inspire more Hispanics to pursue STEM careers.
2020
Adriana Antunez
My name is Adriana Antunez. I am currently a senior at the University of Illinois at Chicago and am in pursuit of obtaining a bachelor's degree in Human Development and Learning. I have been assisting at Resilience, formerly known as Rape Victim Advocates, as a Prevention Education intern since the fall of 2019. And I am passionate about advocating for marginalized communities, such as survivors of sexual assault while using art as a tool for healing and social justice. With any luck, I will soon be pursuing a master's degree related to the arts and/or education.
Adriana Olvera Cabral
My name is Adriana Olvera Cabral and I come from Azcapotzalco, Mexico City. I was born and raised in Mexico and moved to the United States in the year 2014. The transition wasn't easy, but I managed to do well in school while also being involved in multiple other extracurricular activities. I volunteered in a volunteering program at my high school where I will help incoming ESL students to learn about the resources and opportunities at our school and how to prepare and plan for their future after high school. I helped at multiple events at our school as a translator for Hispanic students and parents and here. In these events, I would often also present my story and provide advice for parents and ESL students, who like me, just moved from a different country to show them what they could accomplish in high school. I was chosen by Equal Opportunities Schools to represent my school's AP program and to present my journey as an ESL student taking AP courses. Currently, at UIC, I'm part of the Women in Engineering Society and the Women in Computer Science. My goal is to become a computer engineer and the first college graduate in my family.
ffefwew
Jesus Emmanuel Ocampo
Liberal Arts & Sciences
Jesús is a sophomore enrolled in pre-nursing and minoring in psychology. He has volunteered in the hospital, welcoming patients and helping children feel comfortable in the pediatric unit. He is also the volunteer coordinator for CHAMPIONS Network at UIC, a pipeline program working with underrepresented high school students wishing to pursue a healthcare career. He organizes and helps present healthcare workshops and tutors high school students in chemistry, as well as teaches bystander CPR. Jesús plans to become a bilingual, bicultural male nurse.
Recipients
Martha Garcia
Liberal Arts & Sciences, Honors College
Martha is a pre-med student majoring in neuroscience who has participated in research that focuses on developing a culturally and linguistically adapted e-health intervention for Latina breast cancer survivors. She volunteers her time to efforts that promote health equity. For example, she interprets at CommunityHealth, a clinic that works with a large population of uninsured Latinos. She also participated in programs led by the Hispanic Center of Excellence, such as Medicina Scholars, that focuses on increasing the number of Latinos in the health field so that they can eventually serve the Latino community. She plans to be a culturally competent physician.
2018
Cristian Baez
Cristian Baeza is a Human Development & Learning and minor in sociology, a first generation college student, and the first one to go to a four year university from his entire family. "I've had to navigate various new spaces, especially dealing with the transition from high school to a university without much guidance and support. As the son of Mexican parents that could not afford an education or even the luxury to travel to another country other than taking the risk themselves and leaving their country of origin to come to the United States, I am very privileged, but also excited to be given the opportunity to have been accepted to the Amsterdam Study Abroad Program for Summer 2018 and am currently a fellow of the 2018-2019 UPPF program.
recp2
Ayen Pacheco
Aylen Pacheco's passion in life is architecture. When I arrived at college, I diligently worked towards establishing a NOMAS (National Organization of Minority Architects) chapter at the School of Architecture. As the current UIC NOMAS president, I aim to re-energize my peers to become more socially responsible while cultivating their professional development, network, and design skills. One of the most rewarding experiences I've had as president comes from returning to help my community. Last year, I worked with the professional NOMA chapter and my former elementary school in Little Village to schedule a workshop where we introduced middle school students to the field of architecture. Due to the success of this workshop, we have been able to program more workshops throughout the Latino community. Receiving the Hilda López-Arce Memorial Scholarship will support me in continuing my education as an undocumented student. Coming from the working class, education can seem surreal, especially when financial aid is not an option. Scholarships like this are what provide hardworking students the opportunity to a higher education.